WELLNESS AND RELAX
Enjoy a moment of complete relaxation in real oases of well-being … Body wellness through wellness, beauty and spa treatments; Wellness of the soul given by places, landscapes and suggestive atmospheres; Well-being given by good food, by the cultural, artistic and naturalistic wealth of the places … all this in short, that can make you feel good during your trip in Italy. You can then make unforgettable excursions to nearby places to admire the artistic and cultural beauties of our "Bella Italia".
VENETO
Abano Terme (PD)
Abano Terme is a relaxing destination where luxury spa treatments and outdoor life meet and combine perfectly. Treat yourself to a break of wellness and pure relaxation in one of the many wellness centers.
Properties of thermal waters: You can then benefit from the properties of the thermal waters of Abano Terme, particularly suitable for the treatment of dermatological diseases and for vascular problems and its muds.
Possible excursions from Abano Terme:
Venezia (distance approx. 55 km – 1 hour)
Verona (distance approx. 100 km – 1 hour and 15 minutes)
Wine tour Valpolicella (distance approx 100 km – 1 hour and 15 minutes).

LOMBARDY
Gargnano (BS), Lake Garda
In Gargnano it seems that time has stopped and this is the essence of the beauty of this country lying on the western shore of Lake Garda, almost a stage where the life of its inhabitants is intertwined and intregrated with that of the tourists that they have chosen as a place to spend a relaxing holiday.
Unforgettable are also the sunsets with a great variety of colors that creep in the narrow alleys carved into the walls, in the small squares and in the small ports.
Possible excursions:
Boat tour on Lake Garda.
TUSCANY
San Giuliano Terme (PI)
Near the sea and the mountains, with the possibility of excursions on foot, by bike or on horseback San Giuliano Terme is a crossroads between two cities of art such as Pisa and Lucca. It is also the ideal place for a stay of absolute tranquility, made more relaxing by the ancient baths known already in Roman times, currently offering a wide range of treatments for well-being. Properties of thermal waters: The waters are particularly suitable for diseases of the respiratory, circulatory, locomotory system through balneotherapy, mud therapy and inhalation treatments.
Possible excursions from San Giuliano Terme:
Florence (distance approx 100 km – 1 hour and 20 minutes)
Lucca (distance approx 12 km – 20 minutes)
Pisa (distance approx 6 km – 15 minutes).

Bagno Vignoni (SI)
A small and enchanted village developed all around a pool. An ancient village of a few tens of inhabitants, renowned for its baths already in Roman times. Despite the wars, the looting and the vicissitudes passed over the centuries, the structure of the village has remained identical to its origins: developed around the basin that collects the thermal spring, it has transformed the water in an evocative square.
Here you can relax thanks to the beneficial properties of its thermal waters and the evocative landscapes that this area offers.
Properties of thermal waters: The thermal waters are particularly indicated for the treatment of arthropathies, chronic inflammatory disorders, traumas of various kinds.

Possible excursions from Bagno Vignoni:
Montalcino, Montepulciano, Pienza, Siena and San Gimignano.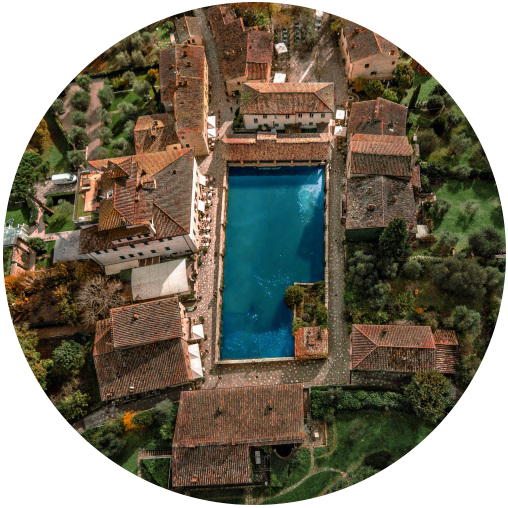 UMBRIA
Assisi (PG)
One of the most famous villages in Italy is Assisi, a UNESCO World Heritage Site but, above all, the land of man who renounced all his belongings to dedicate his life to helping the needy: St. Francis.
And to him is dedicated the splendid Basilica, one of the emblems of Christianity, located on Mount Subasio from which dominates the entire valley. Besides being a strong attraction for millions of faithful, the Basilica is also a monumental complex of great artistic importance.
Assisi is also linked to other saints such as Santa Chiara and San Ruffino and walking through its streets and squares you can breathe in every corner the solemnity of this place.
Relax in this magical place.
Possible excursions from Assisi:
Perugia (distance approx. 25 km -30 minutes)
Gubbio (distance approx 58 km -50 minutes)
Spello (distance approx 15 km – 20 minutes)
Spoleto (distance approx 50 km – 40 minutes).
Brufa di Torgiano (PG)
It is located on the top of a hill that acts as a watershed between the territories of Perugia, Assisi and Foligno. In the past, Brufa di Torgiano has been inhabited by the Etruscans and Romans and today the main activity and the production of wine with extensive vines of DOC grapes.
Here between the peace of the countryside and the beneficial wellness treatments you can enjoy moments of absolute relaxation.
Possible excursions:
Possible excursions from Brufa di Torgiano:
Perugia (distance approx. 15 km – 25 minutes)
Assisi (distance approx. 20 km – 25 minutes)
Gubbio (distance approx. 50 km – 45 minutes)
Spello (distance approx. 25 km -20 minutes)
Spoleto (distance approx. 60 km -45 minutes).
These are just some places where you can relax in a Wellness Center.
Click below to customize your request: